Frog Senior Series Plans
This attractive range of six models was sold between 1953 and 1969. All had a wing span of 18". Here is what Frog themselves had to say about the kits:

The Frog Senior series is a range of models of near scale design and appearance representing popular full size sports planes, all approximately 18" span.

They embody very quick and simple constructional methods, as in the Frog Junior series models, all the main parts being ready-cut to shape, and only require cementing together.



---



The pdf files should print off at exactly full size if you set your printer to A4 paper. This should work even if you do not have A4 paper in the printer, as the margins have been left deliberately large. Every plan has a scale drawn on it in the form of a row of inverted T shapes. These are spaced exactly 50 mm apart, and should help with the sizing.

You will need Acrobat reader to view the pdf files, which is a free download from the Adobe web site

For those of you who prefer to work with standard graphics file formats, I have added zip files containing 2 colour bitmap files, so you can edit them in your favourite graphics package.
---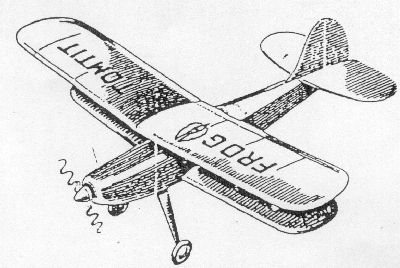 Tomtit
This was the only biplane in the range, but the way it has been designed means that even if you have never built one before, you should encounter few difficulties. Note the central wing support is laminated from two 1/16" parts, and fits between the root ribs of the upper wing. So remember to angle the root ribs so they are parallel when you block up the tips to fix in the dihedral. Do not glue the root ribs together, leave a 1/8" gap. I would suggest notching the wing support to clear the wing spar, so you can let this run across the centre.

As on most of the other plans, I have enlarged the hole in the front former to make it easier to get the rubber in when stretch winding. I would strongly recommend reinforcing the nose former with either another lamination behind it, or by facing with thin ply (or both!) Also, if you use very light balsa for the fuselage sides (recommended) then I would suggest reinforcing the rear peg location.

This model is an excellent flyer, and I have seen Bill Brown's example do well over a minute.

Download Tomtit pdf file here (84 KB)

Download Tomtit bmp files here (130 KB)

Here are photos of an original kit offered on Ebay, which may induce feelings of nostalgia in some of you. The bidding went way over what I could afford.....




Thanks to George Winfield for sending me a photo of his neatly completed Tomtit model.




---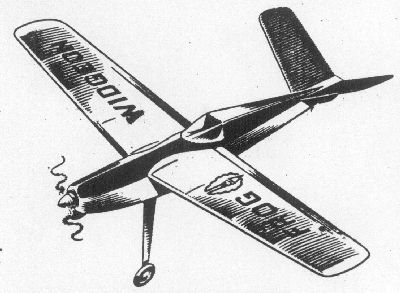 Widgeon
I have built this model myself, and can testify that it flies well, even with the butterfly tail (best time currently 58 seconds on a loop of 3/16" Tan Sport), Looking at my model now, I feel the nose former is a touch too narrow, so I have corrected this in the patterns supplied with the plan. As with the Tomtit, I would recommend reinforcing the single nose former and the rear motor peg location. I used a cut-down Peck 7 inch plastic prop, and added a small spinner from milliput epoxy putty backed with a ply disc.



The finish on mine is white Esaki tissue airbrushed with gloss cream and Brunswick green Humbrol enamel paint, thinned with dope thinners. The Widgeon lettering is masked and sprayed, and the Frog logo is a home made transfer. If anyone would like one or two of these, just let me know. I can print waterslide decals to any size you want. Alternatively, if you would just like the bitmap file to print onto tissue or notepaper, just ask and it is yours.

Download Widgeon pdf file here (158 KB)

Download Widgeon bmp files here (233 KB)

Pat Harbord built this Widgeon for his father in law's birthday, and as you can see, made a very nice job of it. The built up tail surfaces make a lot od sense if you want to avoid adding excessive noseweight.




---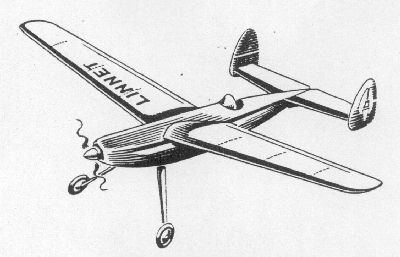 Linnet
Another very pretty plane and one which is another fine flyer. I am very tempted to build one of these double size, with a conventional built-up fuselage. At 36 inch span, would this not be a gorgeous model?



Here is my Linnet which I built for the Cookup on the Small Flying Arts web site The finish is similar to the Widgeon, but I used Midnight blue enamel this time instead of green. Weight came out at 25 grams, including noseweight, but excluding rubber. This model features a carved balsa prop, unlike the commercial plastic item on the Widgeon, and I think this is an improvement. Certainly you get a longer prop run with the single loop of 3/16" rubber.

It flew well first time out at Old Warden - in fact I nearly lost it twice!

Download Linnet pdf file here (248 KB)

Download Linnet bmp files here (244 KB)



Harry Sokol sent me this photo of his very neatly finished Linnet all the way from Australia - many thanks!


---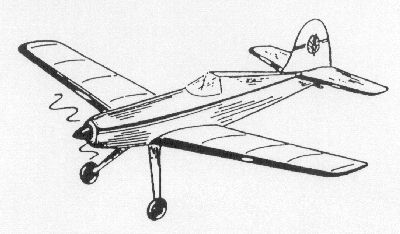 Raven
Here is Chris Strachan's immaculate Raven, built for the Peterborough Senior Series competition. Model is covered in Esaki tissue and airbrushed with Humbrol satin white. The midnight blue trim is cellulose, sprayed very carefully so as not to lift the enamel.



The prop is a slightly cut down 7 inch Peck plastic item, to get it the same diameter as the one shown on the plan (one of the rules for the competition is that prop diameter must match that on the plan). Model flies well, but has yet to break the magic minute mark.

Download Raven pdf file here (74 KB)

Download Raven bmp files here (118 KB)



Thanks to Fraser Burgess for sending me a photo of his Raven, built from the A and DB Models laser cut kit. The only modification he made was to change the nose block to get more rubber in. It weighs 27 grams ready to go.
---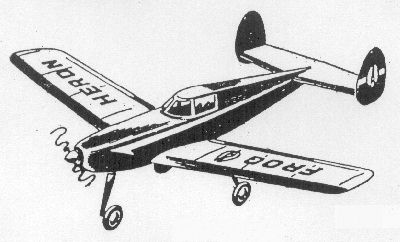 Heron

Download Heron pdf file here (85 KB)

Download Heron bmp files here (134 KB)



Here is my latest Senior Series model, built from the A and DB Models laser cut kit. You can read a detailed review of the kit here



---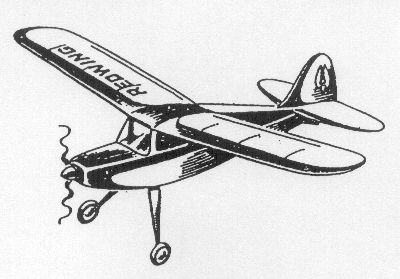 Redwing

Download Redwing pdf file here (122 KB)

Download Redwing bmp files here (162 KB)

As a bonus for this plane, here are a couple of zip files containing bitmaps created by Pete Money for the parts for the Redwing. The legal files have the advantage of fitting the fuselage sides onto one piece of paper, so no joining to do.

Click here for the A4 parts layout (136 KB), or here for the Legal version (159 KB).




Phil Morrell built this example from the A and DB Models laser cut kit. The model weighs 1.25 oz and Phil reports it flew first time with only a slight amount of trimming.



Thanks to Chris Wheatley for sending me this photo of his beautifully finished Redwing, also from the A and DB Models kit. Model weighs 20 grams and features a KP Aero adjustable nose bush (which saves shimming the nose block when you change the thrust angle).


---

The Peterborough "Flying Aces" meeting had its first special event for Frog Senior planes in September 2004. The weather was perfect with sunny, blue skies, little wind and very hot. The organisers were delighted to have about 25 entries in the class, and all six types were represented.

What became apparent during the day is that you are doing very well to get a minute out of these models, even in ideal weather conditions. 45 seconds or so was relatively easy to do, but only one person (John Barker) got three 60 second maxes, so a fly off was not needed. This was with a Redwing.

Second place was a Heron (two maxes) and third my Linnet (which got just one max with 62 seconds). My Widgeon managed 58 seconds on one flight, which I was very pleased with. General consensus was that the Widgeon is probably the trickiest of the bunch to trim. I had to add a small trim tab bent up on the right wing to stop it falling out of the air after the climb out when lots of winds were piled on. There were lots of Tomtits flying well, with times not far short of a minute. This and the Redwing seemed the most popular choice.

The club have now made this event a regular class at their Flying Aces meeting, so why not build one and join in the fun?



---



Back to home page

On to Senior Series photo gallery

On to rubber powered scale plans

On to more rubber model plans

On to Frog Junior Series plans

On to Frog Junior Series scale plans

On to Frog glider plans

On to the 1960 catalogue page

On to the Wilmot Mansour Commemorative Exhibition report

On to the links page