Frog Gliders
Wren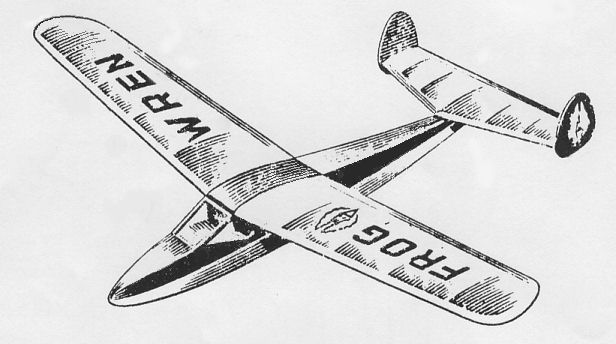 I think this 25 inch span glider is one of the prettiest Frog models, and it should be a very simple build. You have 8 A4 sheets to tape together to create the plan, or you can download the whole thing and chop it up yourself! 3 sheets of parts patterns are also provided.

In case you are wondering how well the model can fly, here are some great reminiscences from Peter Redhead:



---


At the tender age of 11 in summer '55, I built my first FROG kit, the 'Wren'. What a contrast to the rock-hard printed sheet wood in the other brands - beautiful white wood, cleanly die-cut, and everything fitted! I was suitably inspired to a new high of neatness in building, with no blobs, lumps or strings to spoil the covering, and I even sanded it!

Along with two school friends, we took the newly finished model (still smelling of dope!) to the local park in Preston on a balmy Sunday morning with just enough breeze to make it easy to tow the model on a 50 foot reel of button thread 'borrowed' from mum's sewing basket. We spent two, maybe three hours taking turns to tow it up, straight as an arrow, top of the line every time, for a long wide glide circle back to earth. Finally, the luck ran out and we 'tree'd' it, although it was easily retrieved with only a small hole in the left wingtip.

We decided that it might be wise to pack up at that point, as refreshments suddenly seemed like a good idea, but we'd only just started to wind up the towline when I spotted my mum and dad walking towards us across the park on their way to catch a 'bus to Blackpool for the afternoon. 'Do you want to see my new model fly?' - of course they did! (they got no choice!). Off it went, the hole making no difference to the towing, but this time when it came off the line it started to go up, and up...When it finally disappeared over the trees at the edge of the park, my dad was so impressed that he immediately asked, 'how much was it, son?' '7s & 6d', I replied. He put his hand in his pocket and gave me a ten-bob note. I was speechless, as the only active interest he'd ever shown in my models before was the day he sat on my newly finished KeilKraft Hunter!

Later in the afternoon, there was a knock at the door, and one of the girls in our class at school stood there. 'Have you lost one of your models?' she asked. When I confirmed that I had, she went on to say that she had been playing in the backyard, and had seen a red and white model glide down to land in the yard of the corn mill which backed on to their house. When we got there and looked over the wall, there it was, with no further damage.

Of course, I forgot to mention it to dad - I hid it in the bedroom for a month, and then announced that I'd built another one, exactly like the first....As you can see, I have very fond memories of that model - my first thermal encounter, a successful retrieval (in spite of no name and address!), and a profit!



---


Download Wren pdf file (A4 sheets) here (240 KB)

Download Wren A4 bmp files (zipped) here (278 KB)

Download complete Wren plan as a single bmp file (zipped) here (187 KB)



---





Many thanks to Harry Sokol in Australia for sending me a picture of his completed Wren. He says it was a spur of the moment effort - The Wren looked so nice that he just had to make one!


---
Diana
Here is a rather larger, and equally pretty glider model, with a wingspan of 36". Frog described this one as a high performance lightweight sailplane. I guess Lightweight can be a relative term, but for a Frog design, this one is reasonably restrained in terms of balsa wood content!

This is the model I attempted to build during the Wilmot Mansour exhibition at Solent Skies museum, and failed miserably. It has got a little bit further, but unfortunately is still not finished. If you can do better, please send me the photos!

I have drawn up most of the parts on the five sheets, but there will still be a few bits and pieces for you to work out for yourself. If there are any serious fit problems, please let me know.

I think the fin parts are 1/16" sheet, so have labelled them accordingly. If this is wrong, again, please let me know.



---


Download Diana pdf file (A4 sheets) here (355 KB)

Download Diana A4 bmp files (zipped) here (405 KB)

Download complete Diana plan as a single bmp file (zipped) here (390 KB)




Thanks to Tom Ready for sending me this photo of his completed Diana. It really is a rather elegant design, as you can see. He certainly has put me to shame, as mine is still not finished!



The nostalgic among you may appreciate this photo of an original kit which was sold on Ebay (for a considerable sum!)



When you put plans up on a site like this, you obviously have no idea where in the world they are going to end up, and just to show what a great thing the internet is, here are some photos kindly sent to me by 14 year old Tibor Kertesz all the way from Venezuela. Here is his Frog Diana, and have a look below at the spectacular scenery at his flying site!






---
Slingsby Skylark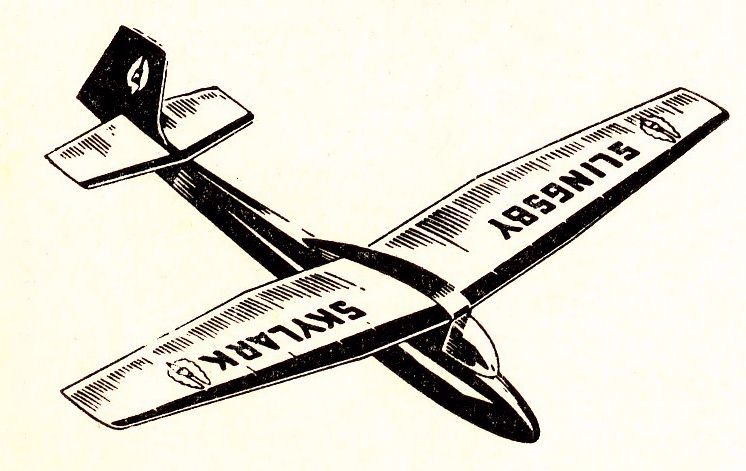 Here is another pretty glider from the Frog range, this time a 27 inch span scale model of the Slingsby Skylark.

As well as the formers shown on the plan, I have drawn up the missing ones as well as creating a set of ribs on the parts sheet. The parts are ready to be transfered to a 3 inch wide sheet of 1/16" balsa. If there are any fit problems, please let me know (I had to take a guess at the width of the nose former). I am afraid you will have to mould yourself a canopy for this one.



---


Download Skylark pdf file (A4 sheets) here (200 KB)

Download Skylark A4 bmp files (zipped) here (274 KB)

Download complete Skylark plan as a single bmp file (zipped) here (193 KB)


---
General notes on printing the plans The pdf files should print off at exactly full size if you set your printer to A4 paper. This should work even if you do not have A4 paper in the printer, as the margins have been left deliberately large. Also, remember to set the zoom to "none" or "100%".

You will need Acrobat reader to view the pdf files, which is a free download from the Adobe web site

Bitmap files are also provided in case you prefer to work with those. Scanning was done at 150 dpi, and every A4 page is 1000 pixels wide. So to print out full size, you just need to set the page width in your graphics program to 6.67 inches (1000/150).

The complete Wren plan is 3375 x 2640 pixels, the Diana 4900 x 3100 and the Skylark 3396 x 2607 so you can do your own sums on those!



---



Back to home page

Back to Frog Senior Series plans

Back to Senior Series photo gallery

Back to rubber powered scale plans

Back to more rubber model plans

Back to Junior Series plans

Back to Frog Junior Series scale plans

On to the 1960 catalogue page

On to the Wilmot Mansour Commemorative Exhibition report

On to the links page